Online Chair Yoga For Seniors, Stroke & Limited Mobility
Experience The Benefits of Chair Yoga
Increase Mobility
Improve Balance
Build Strength
Foster Neuroplasticity
Reduce Anxiety and Stress
Improve General Health & Lose Weight
Who?
Adults & Seniors Including Those With Mobility Constraints From Stoke, TBI, or Other Health Issues
Each Class Is Taught Live Online By An Expert Instructor
When?
Live Online Classes Held Weekly
Wednesday Morning: 10AM Pacific (1pm Eastern)
Wednesday Evening: 4PM Pacific (7pm Eastern)
Where?
Online Via Zoom Video Chat (Email reminders with class details and Zoom link are sent weekly)
How Much?
Your First Class is Free!
After, Classes Are $12 Each, Billed Monthly @ $48/month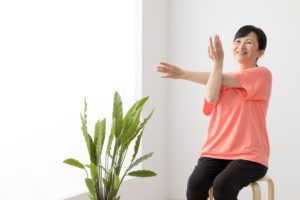 Class Size
Since all of our classes are tailored to class members individual needs, goals, and abilities, we cap our class sizes at 10 people.
What You Need
A Chair
An Internet Connected Device to View The Class
Join Our Live Online Chair Yoga Classes
Improve your heath and wellbeing with our adaptive online chair yoga classes taught by a live instructor and designed for adults and seniors of all skill levels, including those who have one-sided weakness, paralysis, are wheelchair-bound, or those with mobility constraints due to age or other health conditions.
Experience the incredible benefits of yoga in the comfort of your own home with our expertly designed, seated and gentle classes.
Improvement
I had a stroke a few years ago which caused some paralysis and mobility issues. I look forward to these chair yoga classes every week, I always feel happier and better connected with my body after I'm done. Thank you.
Mary
Fun and Relaxing
After my TBI, I was worried I wouldn't be able to do the things I used to love. But this chair yoga class has helped me regain some of my strength and balance. Plus, it's a fun and relaxing way to spend an hour.
Patricia R.
New to Chair Yoga
I was skeptical about doing yoga from a chair, but this class has exceeded my expectations. The instructors are knowledgeable and guide us through each pose with care. I leave every class feeling energized and grateful for my body.
David S.
Submit The Form Below or Call

(720) 505-4015


To Try A Free Class
A member of our team will contact you to schedule your first free class. Have questions?
Give us a call 🙂
Meet Rachael
Your instructor Rachael received her YTT200 yoga teacher certificate in 2018 and has had a personal practice for over 10 years. She enjoys the mind-body connection that yoga offers in conjunction with evidence based practices from her mental health training and education. Rachael has her Master's in Social Work from the University of Denver and her Bachelor's of Arts in Psychology from Agnes Scott College. She is a licensed social worker in the sate of Colorado and has extensive experience working with adults, seniors, and stroke survivors. Rachael combines these skills and resources to provide clients with a holistic health approach to increase quality of life and overall satisfaction.
Introduction of Theme / Breathing Exercise
Class starts with a theme, quote, or yogic concept that aims to foster creative thought, self reflection, and expand your awareness. Class theme may also include a practiced pranayama (breath work).
Class Flow
Class flow follows the introduction of the class theme. Class flow usually works from the feet and move up to the head and starts with gentle stretching. Movements include single and combined side movements and postures to build strength, increase range of motion. Many of our poses aim to build mind body connection and work neuroplasticity.
Guided Meditation
The last 10 minutes of class is a guided meditation. You can take this meditation seated or laying down in savasana. Meditations vary week to week and usually work in conjunction with the class theme.
What makes our classes different?
Our Adaptive Chair Yoga Classes are tailored to the unique needs for seniors, stroke, and limited mobility.
Firstly, our class flows focus on moving each side of the body in isolated movements followed by combined sides to help build neuroplasticity (the brains ability to rewire and rebuild neural pathways). All postures and movements are completed in a seated position that emphasizes proper posture and encourages strength for balance. This means that no matter your physical abilities, you can engage in the physical practice of yoga and improve your strength, mobility, and range of motion.
Secondly, with a repeated instructions, clear and concise class cues, and a slow class flow, our adaptive yoga is easy to follow along and stayed engaged with for the full 60 minutes.
Lastly, we emphasize breath-work and mind-body connection to help you feel calmer, more relaxed, and present in the current moment.
Don't let your stroke or limited mobility hold you back from engaging in the physical and mental benefits that yoga has to offer!
Questions? Call for answers!
Call or text us today with any questions on yoga, program details, or to sign up for your first free class! Leave a message if you don't get through and we'll call you back as soon possible. You can also email Rachael directly at Rachael@unalomelotus.com
We look forward to connecting with you soon 🙂